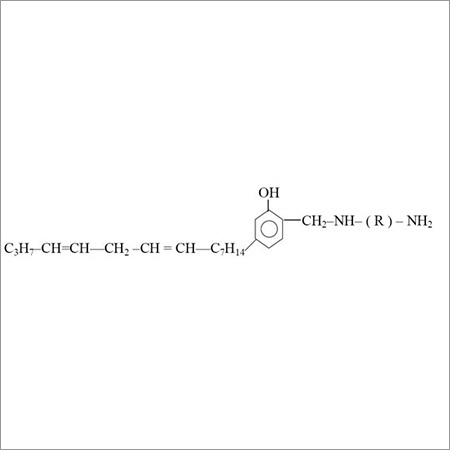 Wet Surface Curing Agent
Product Code : PPA - 7108
Product Description
Our company is well known manufacturer and supplier of Wet Surface Curing Agent. The high hydrophobicity of phenalkamines gave by the long straight side chain in like manner passes on many points of interest to covering definitions differentiated and some unique headways. Water affectability of the phenolic hydroxyl and other definition parts can be killed, which reduces the shot the gum folio obstruction will be broken and constructs disintegration affirmation. Grasp to insufficiently masterminded or extraordinary wet surfaces, for instance, water submerged concrete is especially incredible with phenalkamines in light of the way that this hydrophobic effect ensures incorporating water does not affect the surface gum bond. With more than two numerous times of research, Cardolite has led new progressions in phenalkamine development, for instance, Wet Surface Curing Agent is inventive dissolvable free, low thickness, and speedier curing things.
Other Details:

CNSL Technology
Cashew Nutshell Liquid
Phenalkamine
Phenalkamide
Ultra LITE
Polyol
Phenalkamine PPA – 7108 is Mannich base, a response result of refined cashew nutshell fluid and polyamine. It is an Epoxy Adduct of Phenalkamine in arrangement shape.
Novel Features :
Low consistency
Excellent fast cure even at low temperatures
Good compound, dissolvable and water resistance
Very great similarity with
Epoxy pitch in view of bis - phenol A
Epoxy pitch in view of bis - phenol F
Epoxy pitch in view of phenolic novolacs
Non basic blending proportion
Excellent curing under moist and in addition sodden and wet conditions
Good attachment to mechanically cleaned surfaces
Very great attachment over wet surfaces
Superior consumption resistance
Very great adaptability
Workable pot life at lower temperatures
Applications
Medium to high strong coatings
Surface tolerant ground works for metallic substrates
Marine and modern upkeep coatings
Tank linings
Adhesives
Flooring and development
Capacity and Stability :
Hardener PPA - 7108 ought to be put away in a cool dry place at 18 - 25°C in the fixed holders to accomplish timeframe of realistic usability of least one year. Item can respond with dampness and carbon dioxide noticeable all around. This may bring about expanded consistency and lessened movement.
Dealing with and Precaution
May be unsafe if ingested or consumed through the skin and can bring about refinement. Will bring about extreme irritation in contact with eye and skin. Wash completely in the wake of taking care of. Satisfactory ventilation is basic amid application. Holders ought to be firmly shut when not being used or amid transportation. Try not to breathe in fog or vapors. It is prescribed to utilize gloves, security glasses and defensive dress for safe dealing with.
E
mergency treatment :
If there should arise an occurrence of
Inward breath :Remove to natural air and give oxygen if breathing is troublesome
Ingestion : Give a lot of water. Try not to prompt spewing. Contact a doctor
Contact with Eyes : Flush eyes with a lot of clean water for no less than 15 minutes
Contact with skin :Immediately wash with mellow cleanser and water
Typical Properties :
| | | |
| --- | --- | --- |
| Property | Unit | Specification |
| Appearance | Visual | Orange Brown liquid |
| Colour | Gardner | 16 max |
| Amine Value | mgKOH/g | 320 – 370 |
| N.V.M. (1 hr @1050C) | % | 75 ± 2 |
| Viscosity @250C | cPs | 500-3000 |
| Density @250C | gm/cm0 | 0.95 0.97 |
| Flash Point (Closed cup) | 0C / 0F | 35 / 95 |
| AHEW | g/eg. | 125 |
| Recommended PHR (EEW–190 | ---- | 66 |
Curing Properties :
| | |
| --- | --- |
| Liquid epoxy resin (EEWT –190) | 100 |
| PPA – 7108 | 66 |
| Curing time : set time WFT. 200 microns | |
| @ 250C | 3 - 4 hrs |
| @ 50C | 16 - 20 hrs |
| | |
| --- | --- |
| Optimum curing schedule 7 days at 25° C | |
| Gel time 100g@250C | 60 min |
Contact Us
Unit No. 204, Monarch Chambers, Marol Maroshi Road, Marol Naka, Andheri East, Mumbai, Maharashtra, 400059, India
Phone :+917259333284