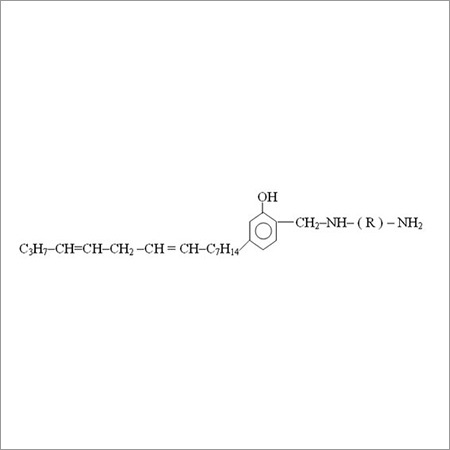 Phenalkamine Epoxy Hardener
Product Code : PPA - 7124
Product Description
Our organization has ascended as the manufacturer and supplier in the era of our New Product Phenalkamine Epoxy Hardener. The unmistakable qualities of these hardeners have supplemented the particular limits of the affiliation and its organization in finishing quick improvement in the business. Phenalkamine Hardeners are intriguing hardeners with characteristic property to cure epoxy gums at low temperatures down to 0°C under high moisture with surface resistance and adequate flexibility. In this manner, Phenalkamine Epoxy Hardener have an edge over both polyamides and polyamines in the field of basically Marine and Protective Epoxy Coatings.

Other Details:

PPA – 7083 is Phenalkamine in view of refined CNSL . It is produced to enhance the pot life with the goal that it could be utilized as a part of tropical atmosphere (normal room temp. @25-30°C) with no issues amid the application.
Novel Features :
Excellent fast cure even at low temperatures
Good concoction dissolvable and water resistance
Very great similarity with
Epoxy sap in light of bis - phenol A
Epoxy sap in light of bis - phenol F
Epoxy sap in light of phenolic novolacs
Most of the natural solvents and their mixes
Non basic blending proportions
Excellent curing under sticky and moist conditions
Good bond to mechanically cleaned surfaces
Superior erosion resistance
Very great adaptability
Workable pot life
Uses of Epoxy Hardener PPA - 7124
Solvent free, high strong coatings
Pipeline and tank coatings
Adhesives
Surface tolerant preliminaries for metallic substrates
Marine and mechanical coatings
Capacity and Stability :
Epoxy hardener PPA - 7083 ought to be put away in a cool dry place at 18 - 25°C in fixed compartments to accomplish time span of usability of least one year. Item can respond with moisture& carbon dioxide noticeable all around. This may bring about expanded thickness and decreased movement.
Dealing with and Precaution
May be unsafe if ingested or retained through the skin and can bring about refinement. Will bring about extreme irritation in contact with eye and skin. Wash altogether subsequent to taking care of. Satisfactory ventilation is basic amid application. Holders ought to be firmly shut when not being used or amid transportation. Try not to breathe in fog or vapors. It is prescribed to utilize gloves, wellbeing glasses and defensive apparel for safe taking care of.
Emergency treatment :

If there should arise an occurrence of
Inward breath :Remove to natural air and give oxygen if breathing is troublesome
Ingestion : Give a lot of water. Try not to prompt retching. Contact a doctor
Contact with Eyes : Flush eyes with a lot of clean water for no less than 15 minutes
Contact with skin : Immediately wash with mellow cleanser and water
Low Temperature Cure Hardener
We are pioneers in Manufacturering Low Temperature Cure Hardener.
Applications :
Pipeline and tank coatings.
Adhesives.
Surface tolerant ground works for metallic substrate.
Marine and modern coatings.
Typical Properties :
| | | |
| --- | --- | --- |
| Property | Unit | Specification |
| Appearance | Visual | Light brown viscous liquid |
| Colour | Gardner | 16 max. |
| Amine Value | mg KOH/g | 290 – 330 |
| Viscosity @250C | cPs | 3000 – 5000 |
| Density @250C | gm/cm3 | 0.97 – 0.99 |
| Flash Point (Closed cup) | 0C / 0F | 205 / 401 |
| AHEW | g/eq. | 160 |
| Recommended PHR (EEW–190) | ---- | 84 |
Curing Properties :

Gel time (mixing)

60 min
Contact Us
Unit No. 204, Monarch Chambers, Marol Maroshi Road, Marol Naka, Andheri East, Mumbai, Maharashtra, 400059, India
Phone :+917259333284