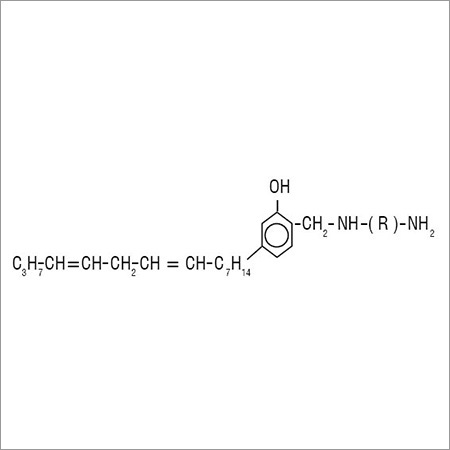 Amine Adduct
Product Code : PPA - 7062
Product Description
We offer expansive combination of Amine Adduct PPA - 7062 (PHENALKAMINE EPOXY HARDENER ) Phenalkamine PPA – 7062 is Mannich base, a response result of refined cashew nutshell fluid and polyamine. It is game-plan of epoxy adduct of phenalkamine. Highlights : Low consistency Phenomenal quick cure even at low temperature Great compound, dissolvable and water resistance Good closeness with Epoxy contribute light of bis - phenol An Epoxy contribute light of bis - phenol F Epoxy contribute light of phenolic novolacs Non-crucial Amine Adduct blending degree Phenomenal curing under sticky and moreover splashed conditions Great association with mechanically cleaned surfaces Predominant use resistance Good adaptability Workable pot life at lower temperatures

Other Details:

Phenalkamine PPA – 7062 is Mannich base, a response result of refined cashew nutshell fluid and polyamine. It is arrangement of epoxy adduct of phenalkamine.
Novel Features :
Low consistency
Excellent fast cure even at low temperature
Good synthetic, dissolvable and water resistance
Very great similarity with
Epoxy tar in light of bis - phenol A
Epoxy tar in light of bis - phenol F
Epoxy tar in light of phenolic novolacs
Non-basic blending proportion
Excellent curing under moist and in addition soggy conditions
Good attachment to mechanically cleaned surfaces
Superior consumption resistance
Very great adaptability
Workable pot life at lower temperatures
Applications
Medium to high strong coatings
Flooring and development
Marine and modern support coatings
Tank linings
Adhesives
Surface tolerant groundworks for metallic substrates
Capacity and Stability :
Hardener PPA - 7062 ought to be put away in a cool dry place at 18 - 250C in the fixed holders to accomplish time span of usability of least one year. Item can respond with dampness and carbon dioxide noticeable all around. This may bring about expanded thickness and decreased action.
Dealing with and Precaution
May be unsafe if ingested or consumed through the skin and can bring about sharpening. Will bring about extreme irritation in contact with eye and skin. Wash completely in the wake of dealing with. Sufficient ventilation is basic amid application. Holders ought to be firmly shut when not being used or amid transportation. Try not to breathe in fog or vapors. It is prescribed to utilize gloves, security glasses and defensive dress for safe taking care of.
Medical aid :
If there should be an occurrence of
Inward breath : Remove to outside air and give oxygen if breathing is troublesome
Ingestion : Give a lot of water. Try not to initiate regurgitating. Contact a doctor
Contact with Eyes : Flush eyes with a lot of clean water for no less than 15 minutes
Contact with skin :Immediately wash with gentle cleanser and water
Typical Properties :
| | | |
| --- | --- | --- |
| Property | Unit | Specification |
| Appearance | Visual | Orange Brown liquid |
| Colour | Gardner | 16 max |
| Amine Value | mgKOH / g | 160-200 |
| N.V.M. (1 hr @1050C) | % | 65 ± 2 |
| Viscosity @250C | cPs | 1000-2500 |
| Density @250C | gm/cm3 | 0.95-0.97 |
| Flash Point (Closed cup) | 0C / 0F | 32 / 89.6 |
| AHEW | g / eq. | 180 |
| Recommended PHR (EEW – 190) | ---- | 100 |
Curing Properties :
| | |
| --- | --- |
| Liquid epoxy resin (EEW –190) | 100 |
| PPA – 7062 | 100 |
| @ 250C | 3 – 4 hrs |
| @ 50C | 9 – 10 hrs |
| @ 00C | 16 – 17 hrs |
Optimum curing schedule 7 days at 250C

Gel time 100g@250C

80 min
Contact Us
Unit No. 204, Monarch Chambers, Marol Maroshi Road, Marol Naka, Andheri East, Mumbai, Maharashtra, 400059, India
Phone :+917259333284